Do you want to restyle your home audio system, but don't want to invest in complicated cables and long-range installations? Wireless soundbars are the right way to go.
Cut the cords and enjoy high-quality audio with easy setup and minimal hassle, without compromising on sound.
Wireless soundbars offer a much more convenient way to listen to your favorite music and movies. Instead of having to fumble around with cords, you can stream audio directly from your television or other audio device with an easy connection.
This guide will help you choose the right soundbar for your situation, explain how everything works and provide some tips on how to get the most out of it. From basic models to high-end setups, we've got you covered!
Definition of wireless soundbars
A wireless soundbar is a compact speaker system designed to provide an enhanced audio experience for home theater and TV viewing. It eliminates the need for complicated audio cables and provides a notable upgrade in sound quality compared to the built-in speakers on TVs. Soundbars can also be used with video game systems, computers, music players, and other devices that support Bluetooth or USB connection. To use your device wirelessly requires setting up a wireless network.
Soundbars typically come with multiple drivers which work together to produce clear, powerful sound by creating two different types of audio signals: left and right channels. Many models also include virtual surround sound technology that uses digital signal processing (DSP) to create immersive audio experiences with just two speakers. By using this type of technology, the soundbar can create realistic 3D sounds from just one speaker bar! The best soundbars even come equipped with additional subwoofers for an even more intense bass response.
Benefits of using wireless soundbars
Wireless soundbars can help to reduce the amount of time it takes to set up audio for your home theatre or streaming experience. Furthermore, these soundbars can provide an enormous degree of convenience by eliminating the need for messy cables. Wireless soundbars are relatively easy to set up and configure, compared to some other wireless audio solutions. Many models have simple setups that require only minimal configuration.
In addition to providing convenience and time savings, wireless soundbars offer a range of additional benefits, including improved sound quality that is often superior to traditional wired speakers. Most wireless soundbar systems use high-quality components and deliver full-range audio reproduction with internal amplifiers and subwoofers included. This type of system provides a more immersive listening experience in comparison with conventional speaker configurations.
Wireless soundbars also often feature advanced features such as adjustable bass levels, equalizers, and built-in Bluetooth connectivity so that you can stream music directly from your smartphone or other compatible devices. Additionally, many models come with voice control capabilities allowing you to control them without having to reach for a remote control or dig around in settings menus on your device. With just a few simple commands you can completely elevate the listening experience of any room in your home!
Importance of a complete guide for wireless soundbars
Voice-enabled wireless soundbars provide a convenient way to stream audio without the hassle of cables. Text-based installation instructions alone may be inadequate for some users and can result in equipment being set up incorrectly, leading to dissatisfaction with the initial setup and diminishing user satisfaction over time. A complete guide for wireless soundbars, complemented with video tutorials, technical support, and extended warranties can help ensure that users maximize the potential of their audio streaming experience.
A complete guide should include detailed instructions on how to set up wireless soundbars step-by-step. This may include instructions on how to properly mount the unit, how to correctly connect components (including power), how to troubleshoot any issues that arise during setup, and tips on optimizing sound performance.
In addition to setup instructions, a complete guide can also help explain considerations buyers should take into account before purchasing a wireless soundbar. These considerations may include factors like compatibility with other devices or components in your home theater system; whether you need a device with multiroom capabilities; and what types of wired or wireless connections you need for it to work properly in your space.
Additionally, purchasers should understand the features available with different types of soundbars – such as high resolution audio capabilities or remote control functions – as well as warranty information prior to buying. Understanding what's covered by an extended warranty and other services offered by manufacturers can help protect your investment and make sure you get maximum value from it over time. Having access to technical support after purchase can also provide peace of mind for Canadians looking for reliable product advice.
III. Features to consider when purchasing a wireless soundbar
When you're preparing to purchase a wireless soundbar, it is important to consider certain features. By considering these features, you can make an informed decision that is tailored to your needs.
Some of the key features to keep in mind are:
-Compatibility: The soundbar should work with your TV or other audio devices that you may want to use. Be sure to check for compatibility before making a purchase.
-Wireless Connectivity: Wireless connections such as Bluetooth and Wi-Fi will allow you to stream audio from multiple sources, as well as play music from online streaming services such as Spotify or Apple Music.
-Sound Quality: The quality of the speakers and sound output should be top-notch so that you can enjoy a high-fidelity listening experience. Consider factors such as frequency range and power range when evaluating different models.
-Durability & Design: You should also think about the physical design of the soundbar, including size, shape and materials used for construction. The design should be able to fit into your space both aesthetically and functionally. Durability is also an important factor — it should be able to withstand frequent use without too much wear and tear.
Sound quality
When it comes to sound quality, wireless soundbars are just as good as traditional wired soundbars. They have similar audio characteristics, like frequency range, total harmonic distortion (THD), and signal-to-noise ratio. However, there is one downside to wireless soundbars – they tend to be more expensive than wired models due to the extra tech involved in keeping them connected.
Wireless connectivity is also an important factor that affects sound quality. The connection should be strong and reliable with minimum disruption or interference from other devices nearby. For best performance, look for a model with dual-band WiFi technology so it won't interfere with other networks in your home or workplace. Additionally, most wireless models come equipped with Bluetooth compatibility so you can easily stream audio from compatible mobile devices or pair them with compatible audio receivers.
In terms of physical design construction, most wireless soundbars are made of metal or plastic materials and equipped with special features such as bass reflex ports, which help improve low frequency response; wall mountable brackets; and removable grilles for easy cleaning and maintenance. The electrical components inside a soundbar may include stereo amplifiers for power handling, circuit boards for digital signal processing (DSP), woofers and tweeters for treble and bass sounds respectively, active crossovers to optimize power distribution between drivers; crossovers; and equalization (EQ) circuits for dynamic range control. Together these components provide the user with an immersive auditory experience tailored for a variety of music genres or preferred listening purposes.
Compatibility
Soundbar compatibility is a top consideration when selecting the best soundbar for your home theater system. While most soundbars are designed to work with most TVs and streaming devices, it's important to double-check the specs and connections of your audio setup.
Most common wireless types, such as Bluetooth and Wi-Fi, will usually be compatible with other devices – allowing for a more seamless crossover between different brands and types of equipment. Additionally, certain soundbars may offer expanded compatibility via apps or additional connections built into the device – such as Optical Audio or Roku Connect.
By confirming compatibility before you buy, you can ensure that the soundbar you select is able to smoothly integrate into your existing media setup without any interruptions or expensive upgrades.
Size and design
Wireless soundbars come in a wide variety of sizes and designs, so it's important to know what to look for before making a purchase. You'll need to consider several factors including your room size, the type of audio device you'll be streaming from, your budget and the type of sound quality you're looking for.
When selecting the size and design of your wireless soundbar, it's important to take into account how large your room is as this will impact the sound output. Generally speaking, large soundbars work best in larger rooms while small ones are more suitable for smaller rooms. Before purchasing a wireless soundbar, make sure you measure the length and width of your room as this will help you decide what size is best for you.
The design of the wireless soundbar should also be taken into consideration as they come in a range of styles such as minimalist designs with sleek lines or more traditional designs with wood finishings that match existing décor. Depending on where you intend to place your new audio device – TV stand or wall mounted – various mounting options are available such as set top mounts or wall brackets. If your lifestyle involves frequent travels then portability might be an important factor when choosing a wireless soundbar which can be linked up with compatible devices during trips away from home. Finally another useful feature to consider is multi-directional audio output allowing users greater flexibility by adjusting the directionality (and hence power) where needed in specific directions throughout any given space.
Connectivity options
Wireless soundbars make it easy to access music, movies, and other audio content without the hassle of cables and wires. There are a number of connectivity options available, from Bluetooth to Wi-Fi or a combination of both.
Bluetooth: Bluetooth is the most common connection for soundbars, allowing for audio streaming from any compatible device within a limited range. This technology does not sacrifice sound quality and is great for casual music listening or watching movies.
Wi-Fi: Wi-Fi connections let you access streaming services such as Apple Music, Spotify, Netflix, and more. This provides all the features and benefits of being able to wirelessly stream content with better sound quality than Bluetooth connections. It also opens up integration with voice assistants such Amazon Alexa or Google Assistant.
Both: Having the option of both wired and wireless connections allows you to choose whatever connection works best in your home. This offers the most flexibility when setting up your soundbar system and is ideal for users who want more complex set ups due to their multi-speaker set up or for users who are using multiple sources for their audio content such as CD players and vinyl players.
Ill. Setting up a wireless soundbar
For the majority of people, one of the biggest advantages of materials coexist in soundbars is how easy they are to set up, as you don't have to worry about running audio cables throughout your home. Although many soundbars come with wired connections and offer great quality, you can get even better quality (and plenty more features) with a wireless setup.
Wireless soundbars offer convenience, as there's no need for cables or cords— just plug the soundbar in, and it does all the work for you. The way this works is that each speaker connects to a network adapter placed in an accessible location (usually within 25 feet of your audio source). Once connected, you'll be able to stream music and other audio sources wirelessly—all while racking up crystal clear sound channels.
To get set up with a wireless soundbar system, first choose a model and place it where you want it. Then position the speakers around your room at least 3 feet away from walls or anything else that might interfere with their signal. Install the network adapters wherever necessary—these should be near your audio source like any streaming device or TV. Finally adjust each speaker's settings to suit your preference–such as balance between treble and bass or surround mode–or use an equalizer program if needed for fine tuning. Once everything's plugged in and configured properly , you're ready to stream music without ever having to hassle with cables again!
Unpacking and assembling the soundbar
Beginning the setup process of your soundbar is as easy as unpacking it from its box and assembling the pieces, if necessary. Check to make sure that all of your piece are included and that there aren't any damage due to shipping.
If you need to attach two or more pieces of the soundbar together, do so before moving onto the next steps. Depending on how your soundbar was packaged, you may need to attach the speaker grills, faceplates or other components. Be sure to read your manufacturer's instructions for steps on how to assemble the soundbar completely.
Once it is assembled, place it where desired and make sure that it is securely in place; when using a wall mount bracket set-up be sure that the mount has been securely affixed to both studs and drywall anchors if necessary. When setting up a stand alone system without brackets, use a leveler specifically designed for drywall mounting, marked on both sides with measurements appropriate for drywall installation in order.
Connecting to a TV or other devices
To take advantage of the wireless soundbar capabilities, you will need to connect it to some sort of device. Some soundbars have wi-fi connectivity so they can be connected wirelessly to your TV, while others may require an HDMI or optical connection. You can also plug your soundbar into other audio devices like a gaming console or portable MP3 player.
For the convenience of wireless streaming, you may be able to connect your soundbar to your home network. This allows you to access streaming services like Apple Music and Spotify or even stream directly from a smartphone app or tablet (with an optional Bluetooth adapter). Wi-Fi access also lets you control your soundbar with voice commands if it has Amazon Alexa or Google Assistant built-in.
The type of connections available on your soundbar is dependent upon its model and features, so make sure you know what type of ports are available before purchasing accessories. Additionally, if connecting via HDMI remember that most TVs don't have more than one port, so plan accordingly when selecting the parts for an installation.
Pairing with mobile devices
In addition to connecting to other entertainment devices, many soundbars offer the ability to quickly connect wirelessly with mobile devices like phones and tablets. This allows for even more comfort and convenience when streaming audio content from services like Spotify or Apple Music. The exact method of pairing a soundbar with a mobile device will vary from model to model, but most include several methods such as Bluetooth connection, near-field communication (NFC), and Wi-Fi built into the soundbar itself.
Bluetooth connection is the simplest method of connecting a soundbar wirelessly by using minimal setup and no additional networking equipment. NFC offers similar simplicity of use that can be initiated with just one tap between the wireless device and the NFC receiver on the soundbar, while Wi-Fi connection requires creating an ad hoc network or setting up a router within range of both devices. The troubleshooting section in the manufacturer's user manual can provide additional detail on particular models' methods of wireless pairing.
Whether you prefer quick convenience or robust control when integrating your favorite audio content into your home entertainment system, wireless soundbars are designed for both casual listening sessions and home theater quality audio experiences – enjoy!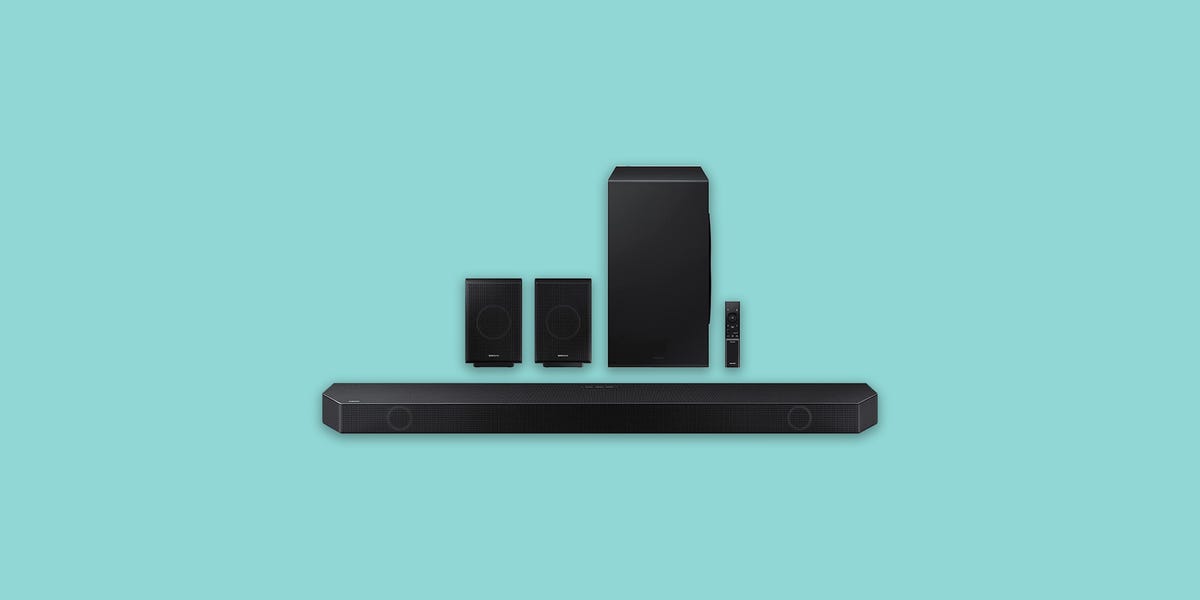 Conclusion
Streaming audio wirelessly offers an unparalleled level of convenience. With a wireless soundbar, you can easily connect to any compatible audio device and stream your favourite tunes without the need for cables.
But it's important to know how to properly set up a wireless soundbar for optimal performance. Consider the size and shape of your room, and where you'll be placing the soundbar before making a purchase. Pay attention to spatial positioning — where is your seating relative to the soundbar? Will you be playing music with multiple people in the room?
And lastly, don't forget about calibration — check out user reviews and look for detailed setup instructions from the manufacturer before setting up your wireless soundbar. By following these steps, you should have no problem streaming your preferred audio with ease — without worrying about tangles of wires!
FAQ's
Can you connect a soundbar to a TV without wires?
Yes, you can connect a soundbar to a TV without wires using either Bluetooth or Wi-Fi connectivity options.
Does a wireless soundbar need to be plugged in?
Yes, a wireless soundbar still needs to be plugged into an electrical outlet for power.
Can a soundbar be completely wireless?
Yes, there are some soundbars that come with a built-in battery and can be used completely wireless.
Can a soundbar work without an optical cable?
Yes, a soundbar can work without an optical cable, and it can be connected to a TV using an HDMI cable, RCA cable, or a 3.5mm audio jack.
How do I connect my soundbar to my TV without an audio output?
If your TV doesn't have an audio output, you can still connect your soundbar to it using an HDMI cable, RCA cable, or a 3.5mm audio jack.
How do I connect my soundbar to my TV wirelessly?
You can connect your soundbar to your TV wirelessly using Bluetooth or Wi-Fi connectivity options.
Can you use a soundbar without HDMI?
Yes, you can use a soundbar without HDMI by connecting it to your TV using other available connectivity options such as Bluetooth, Wi-Fi, RCA cable, or a 3.5mm audio jack.
Is it better to connect a soundbar with Bluetooth or optical?
It depends on your personal preference and the soundbar's compatibility with your TV. Bluetooth connectivity provides convenience, while an optical cable can provide higher-quality sound.
How do I connect my surround sound to my TV without HDMI?
You can connect your surround sound to your TV without HDMI using alternative connectivity options such as RCA cables or a 3.5mm audio jack.
What is the best way to connect a soundbar to a TV?
The best way to connect a soundbar to a TV is by using an HDMI cable or an optical cable, depending on the compatibility of your devices. However, if your TV doesn't have an HDMI or optical output, you can use other connectivity options such as Bluetooth, Wi-Fi, RCA cable, or a 3.5mm audio jack.
See Also-